Stitching Up The World...
One Stitch At A Time
Project: Dress a Girl Around the World
Imagine a world where every girl owned at least one dress! What if that dress was made by you?
A big thank you goes out to all the volunteers that made the Dress a Girl Around the World project a huge success!
There were about 40 ladies that come down to the Masonic Hall on Saturday May 5th to make dresses out of pillowcases and fabric for less fortunate girls in Africa and South America. We had a goal to make 50 dresses and ended up completing 65 in just 4 hours! The volunteers were also able to cut all the fabric and pillowcases that were donated and prepped about another 80 dresses to finish at another time.
Photos from the event have been posted on our Photo Gallery. You can also "Like Us" on Facebook to follow all the wonderful projects Stitching Up The World organizes like this one.
It is amazing what a group of volunteers can accomplish when they get together for an event like this! Thank you!
The Dress a Girl Around the World project was completed in May of 2012.
Gather your friends and family for a fun and rewarding project. Stitching Up The World is teaming up with Hope 4 Woman to make dresses out of pillowcase for girls internationally.
The pattern is very easy to make and there is no need to have sewing experience for this project. We will need volunteers to iron & cut fabric, to count, organize and bag the dresses, as well as some light sewing.
Help us reach our goal to make 50 dresses by volunteering on our project day!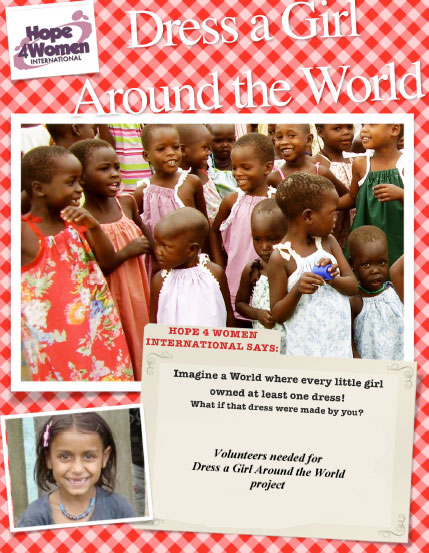 Event Info:
Date: Saturday, May 5th
Time: 12-4 pm
Location: Masonic Hall, 12 South Rd, Candia
Light snacks and refreshments will be served.
Website: Dress a Girl Around the World
Donations
Our group relies on the generous donations of individuals and companies and any help you can provide is always appreciated. Here is a list of items that can be donated for this project:
New pillowcases of all colors and sizes (not white)
Double bias tape ½" wide in all colors
1/2" braided elastic black or white
Thread
Irons and sewing machines to use on the day of the event
Project Guidelines
Here are some links to get you started. Remember...all this information will be provided at the workshop...this is for those who wish to work at home or are just curious.
Contact Us
While registration is not required, please contact Lisa Cote at 587-0603 or cotejla@hotmail.com if you are able to volunteer or have any questions.
A
bout Our Group
Project Guidelines & Patterns