W
hy Join the CCWC?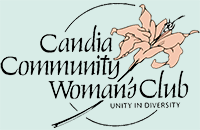 Membership in the Candia Community Woman's Club gives you the opportunity to join an organization of women who use their talents and enthusiasm to benefit their community and help those in need.  Our group is comprised of single, married, working and stay at home women who enjoy working together to make a difference in our town and our state. If you enjoy helping others, making new friendships and having fun, then the CCWC is the place for you.
For more information, contact our membership chair or stop in at one of our meetings.  Our meetings are held the first Wednesday of every month and all are welcome to attend. Check our Meetings Page for specific dates and times. It is our hope that joining the CCWC is something you will find as heartwarming as we do.
Read about why some of our members decided to join the Candia Community Woman's Club.
Lisa C

Member since 2008

I joined the CCWC because I wanted to be more active in the community and it is a great way to give back. Since joining I have meet some great friends and have enjoyed working on many projects. It's addicting!

Deb G

Member since 2001

For those women who find it difficult to get out and socialize, this is the club for you. My life would have been so different if I chose to simply exist in the town without becoming part of the community. The women of the woman's club welcomed me and gave me the opportunity to get involved while having fun. I've gained so much confidence in myself while sharing many wonderful experiences with my club "mates" and my community friends. I consider all of these women very good friends.

Catherine S

Member since 2002

I joined the CCWC because I wanted to make new friends and make a difference in our community. I've stayed a member because I love the dynamics of the group. It's a group of dynamic ladies from all walks of life; of all ages, who gather together to make a difference in the welfare of others. Everyone pitches in to get to the job done, we're never lacking for volunteers, and it's a fun, relaxed club.
A
bout Us
Interested in joining the CCWC?