M
eetings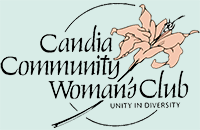 The Candia Community Woman's Club . . . Volunteering since 1983.
The CCWC meets at 7PM on the first Wednesday of each month in the meeting room of the Smyth Public Library. We do not meet in July or August.
At our monthly meetings, we discuss ongoing projects and upcoming events. We hope you are able to attend our next meeting to see if joining the CCWC is something you will find as heartwarming as we do. For any questions, please contact our Membership Chair.
Meeting Dates for 2020/2021

September 2, 2020 (starts at 6pm)
October 7, 2020
November 4, 2020
December 2, 2020 (Holiday meeting)
January 6, 2021
February 3, 2021
March 3, 2021
April 7, 2021
May 5, 2021

June 2, 2021 (Annual Meeting)
A
bout Us
Interested in joining the CCWC?