P
rojects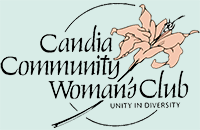 The Candia Community Woman's Club . . . Volunteering since 1983.
Projects are promoted through eight departments: Arts, Education, Home Life, International Affairs, Public Affairs, Conservation, Fundraising and Membership.
Arts: The purpose of this project is to expose and nurture arts in the community.
List of projects (past & present):
Ballroom Dancing
CCWC Scrapbook
Dinner Theatre
Bow Making
Education: The CCWC has a strong emphasis in literacy. The club sponsors two scholarships to support community members in pursuit of higher education.
List of projects (past & present):
Libraries 2000
5th Grade Science Trip
Connie Lofgren Scholarship
Dollars for Scholars
Teacher Appreciation
Babysitting Course
CPR Class
Home Life: This department's varied programs include women's health education, promoting independent living for people with disabilities and financial information and education.
List of projects (past & present):
Backpack Buddies
Blood Drive
Christmas Baskets
Daffodil Days
Fluoride Program
Santa's Giving Tree
Thanksgiving Baskets
Town Luncheon
United Way Clothing Drive
International Affairs: CCWC sponsors programs that benefit the lives of people around the world. These programs may work to build peace, feed children, promotes diversity of culture, provides medical relief and supports economic or educational development.
List of projects (past & present):
Tam Binh Center for Children in Ho Chi Minh City Vietnam
Brittany's Hope Cribs for Kids Program
Operation Smile
Conservation: Programs in the Conservation Department challenge CCWC members to lead the way in improving the global environment. The Conservation Program provides recommendations and projects designed to beautify communities and keep them litter free.
Adopt a Highway: Clean-up is done 4 times/year
Candia Town Sign
Town Planters
Sea Coast Science Center
Earth Day Poster Contest
Moore School 3-Season Garden
Candia Heritage Commission Park
Fundraising: The purpose of CCWC fundraising is to generate revenue for Dollar for Scholar and Connie Lofgren Scholarships. We also use fundraising to support programs and projects within our community.
Chocolate Extravaganza
Old Home Day
Tote Bags
Game of Candia
Cook Books
T-Shirts
Foxwoods Casino Trip
Public Affairs: CCWC forms partnerships with other women's or special interest groups with mutual objectives and women's civic involvement is fostered at all levels of government.
Christmas Tree Lighting
Support our Troops
Town Luncheon
Candidates Night
Old Home Day
Food Pantry
Car Seat Safety Check
Loaf 'n Ladle
Membership: The purpose of this project is to recruit and retain members. Support is extended to the GFWC National Headquarters.
Website
Membership Teas
Family Hay Ride
Spouse Appreciation
Sleigh Ride
Girl's Night Out
River Cruise
A
bout Us
Interested in joining the CCWC?