Stitching Up The World...
One Stitch At A Time
Project: Cancer Centers
Our group makes caps, scarves and lap blankets which are donated to local Cancer centers for patients undergoing chemotherapy.
Requirements
Any yarn that is soft, warm and machine washable is suitable. NO WOOL or WOOL BLEND yarns as it is uncomfortable for cancer patients to wear.
Items do not need to be washed as they are washed in non scented detergent prior to being sent to the donation center.
Sizes that are needed for men & women are medium, and then small followed by large.
Caps
Any cap pattern can be used as long as it is a snug fitting cap. They shouldn't be much longer than 8" from the center of the cap.
Caps are one of the most requested items from patients as they are worn during treatments to keep warm. In the colder months, they are worn throughout the day and in the summer they shade patients from the sun. Please use lighter sports yarn or cotton if making hats for the warmer months.
Scarves or Shawls
There are so many beautiful patterns of scarves or shawls so your possibilities are endless! Some of the more popular ones are the keyhole scarves where one end will tuck into the other side thru a hole. The length of scarves shouldn't be much longer than 30".
Lap Blankets
Again there are such beautiful patterns of blankets available and most are fun to make! Any type of blanket patterns and colors can be used to make a lap blanket. The most common size is 36"x 52" but any size is appreciated. Blankets can be knit, crochet, fleece or quilts. There are many options and creativity can really shine when making a blanket!
Knit Patterns
Crochet Patterns
FLEECE Patterns
More Websites
Here are still more great websites for knitting and crocheting patterns.
Donation Centers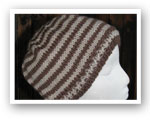 Stitching Up The World is donating all knitted and crochet items to the following centers:
Norris Cotton Cancer Center at CMC
Dana Farber Cancer Institute in Londonderry, NH
Elliot Regional Cancer Center at Elliot Hospital
Contact Us
If you would like to participate in this program or have any questions, please contact us.