C
lub History . . . in brief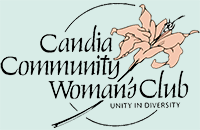 The Candia Community Woman's Club . . . Volunteering since 1983.
The GFWC-Candia Junior Woman's Club (former club name) officially started in 1983 and became a member of the New Hampshire Federation of Junior Women's Clubs and GFWC (the national organization). During our first year, projects included making and placing of street signs throughout the town, conducting a book drive for the town Library, providing games for the children at the Candia Volunteer Fire Department 4th of July Celebration, and planting flowers in the town's planters.
To better reflect the club's focus, the name was changed in 2002 to the GFWC Candia Community Woman's Club (CCWC). This club has become an accepted and 'expected' part of the Candia community. Some of the expected events that are currently conducted by the club are Chocolate Extravaganza, teacher appreciation, providing refreshments at the Town Meeting, the Community Food Pantry, a Continuing Education Scholarship for a Candia woman, the Stitching Up the World group that provides caps & scarves for chemotherapy patients, and holiday baskets.
The CCWC is continually growing and evolving to meet the needs and interests of its members. The motto of GFWC is "Unity in Diversity". The Candia Community Woman's Club certainly reflects this theme with its diversity of members, but unified focus of purpose.
A
bout Us
Interested in joining the CCWC?